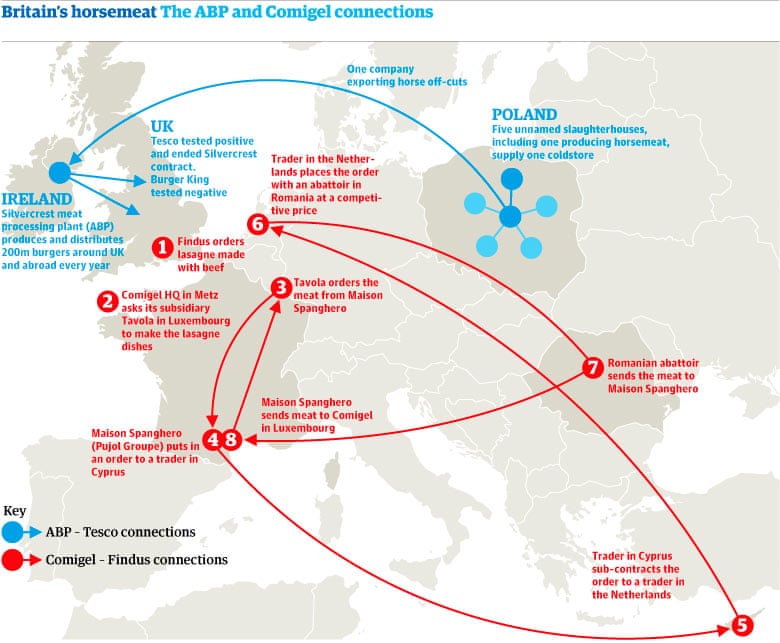 (image via The Guardian – Horsemeat scandal: the ABP and Comigel connections)
This is the map that made me a vegetarian in 2013, and I guess many other people were similarly motivated.
It wasn't the thought of horsemeat as such – if you're prepared to eat a cow or pig, I don't see why you wouldn't eat a horse. Up till then I hadn't been very happy about killing animals to eat, but had pushed my uneasiness aside as I think most people do. When I looked at this map though I had to face two unacceptable facts :
The industrial processing of living, sentient creatures, totally driven by market forces, is completely out of control, and welfare regulation is a meaningless cipher.
We are being lied to about what sits behind the nice tidy packages in the shop – frozen carcases of knackered old horses were being shipped around Europe and mixed up with other old bits of meat to be presented to us as "British Beef".
Much of the resulting mess was turned into Tesco Value Burgers – presumably perfectly acceptable for poor people.
I decided at that point I didn't want any part of this, ever again.
However, I have struggled since 2013 – not with leaving meat behind, that's been easy. It's the dairy products that challenge me. I know the dairy industry is every bit as cruel and rapacious as the meat industry. I am fine with soya yoghurt and in the last year have tried oat, soya and almond milk, which are all great for some purposes, but there doesn't seem to be any good substitute for cheese.
I'd love to know if anyone has found one? I want to be a vegan!